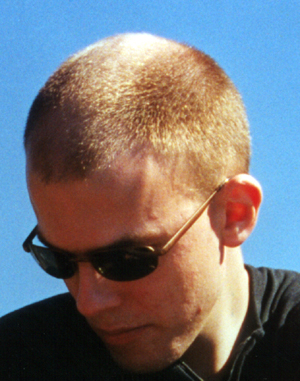 Athome Project is Stian Jacobsen from Stord, an island outside Bergen, Norway. He has been studying music at high school, and has worked on various music shops. But it wasn't until the springtime of 1998, when he got problem with his back and had to quit the daytime job, that he got all the time he wanted to produce music and explore the outer limits of electronica. The result of this was a huge output of music, most of it in the downtempo / jazzy beats / leftfield area, and music for Norwegian television (NRK), theatre and several shortfilms.
His debut 10" Fjord EP was released on the Norwegian label Groovecentral Recordings in the spring of 2000. Although it only was released in a limited amount, it got a lot of attention, especially his version of Summertime. The EP was picked up by the German label Stereo Deluxe, and he was also scheduled for an album on Stereo Deluxe. For various reasons, he parted with Stereo Deluxe, and his self-titlede debut album is out nowon Beatservice Records (released in february 2003 worldwide).
There will also be a 12" with remixes from his good friends Torbjørn and Svein aka Röyksopp, plus a Universal Funk remix.