Cinque Cento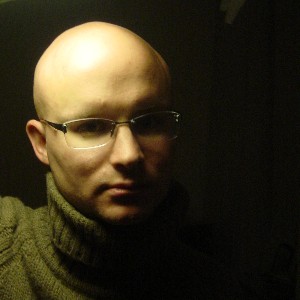 Cinque Cento (pronounced CHEEN-kweh CHEHN-toh) is a tiny Italian car, and also the musical project of TD Nicholson from Trondheim in Norway. He has been playing bass in various band, a.o the Oslo based Nansy, and the singer from Nansy also contributed on his debut track Endless Summer on the Friendly Selection compilation. He had already been dabbling with electronica for some years when he in 2001 decided to start working more seriously with his solo project Cinque Cento.
Being a bass player, the bass lines are an essential component in Cinque Cento's music. His passion for monotonous bass lines was aroused upon discovering hiphop and similiar genres in the early 90's, and combined with cool beats and a insistent melodies, this is the very essence of Cinque Cento. Musically, Cinque Cento can be placed somewhere in the downbeat / nujazz / groovy beats area, ranging from smooth lounge to groovy, but still smooth house-ish grooves.
His debut EP will be released in the autumn of 2003, with a new EP scheduled in the spring of 2004, and the debut album autumn 2004.

Discography
BS068 Blue Nights In Oslo 12" (Beatservice Records 2003)
BS079CD Lake Shore Drive CD (Beatservice Records 2005)
BS086CD Ease My Mind CD-single (Beatservice Records 2005)
compilation contributions
Friendly Selection - lucid voices and lazy beats (BS052CD) CD (Beatservice Records 2002)
Cinque Cento: Endless Summer
Audio Nova 01# DCD (More Music and Media 2004)
Cinque Cento: Missing
Beatservice Jukebox - best of beatservice records (BS080DCD) DCD (Beatservice Records 2004)
Cinque Cento: Missing
Beatservice Radio 2004 (BS084CD) CD-EP (Beatservice Records 2004)
Cinque Cento: Ease My Mind
Beatservice Video Jukebox - best of beatservice music videos 1994-2004 (BS080DVD) DVD (Beatservice Records 2006)
Cinque Cento: Ease My Mind
Jazz Kitchen 2 CD (Incense Records/S2S 2005)
Cinque Cento: Initials CC
Monte La Rue Presents Deluxe 3 - Finest Moments In Modern Lo CD (United Recordings 2005)
Cinque Cento: 500 Past Midnight
Motomusic CD (Penguin 2005)
Cinque Cento: Ease My Mind
Pioneer Summer Lounge DCD (Blanco Y Negro 2005)
Cinque Cento: Missing / Cinque Cento: Lake Shore Drive
RyRalio House: Sobieski Uogos CD (Amzinoji karalyste 2005)
Cinque Cento: Missing
Samsung Chill Out Sessions Vol 3 DCD (Blanco Y Negro 2005)
Cinque Cento: Ease My Mind
Voyages - Emerald Forest Global Tonic (CD 2005)
Cinque Cento: Missing
Holmes Place - Body Balance No. 1 CD (Cool Logistic 2006)
Cinque Cento: Ease My Mind (parliavox Ýrken-miks) / Cinque Cento: Initial CC
Nordic Lounge Weekend CD (Dealers Of Nordic Music 2006)
Cinque Cento: Missing