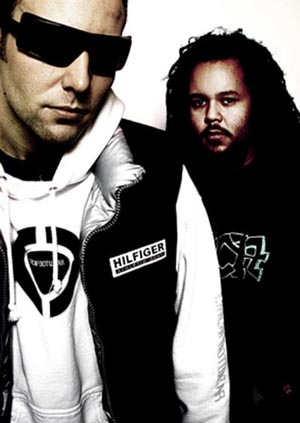 Future Prophecies aka Richard Animashaun Thomas & Tony Anthun is a drum'n'bass duo from Norway. Their extensive knowledge stems from relentless work as club DJs and jazz musicians throughout Norway, the rest of Europe and the States. Having had releases on Subtitles, Renegade Hardware, Moving Shadow, Certificate 18, Outbreak, G2, Fabric Live 03 (DJ Hype), Boombox and Kickin, and remixes with Mari Boine/Universal and Jamelia/EMI, they are a force to be reckoned with.
Richard Animashaun Thomas grew up at his Grandfather's house at Bjolsen, Oslo City, Norway. After some pressure from his Grandfather, who was a well known accordion musician, he started playing clarinet at the local marching band at the age of eleven. He soon switched to saxophone and after years of playing in different jazz, classical, pop and rock bands it finally led him to attending music college in 1992 to do a four year study in jazz, pop and rock. This was also the time that Richard started doing real studio work, programming and experimental "techno-ish" live shows. After becoming tired of the traditional western styles, he sold everything (except his horn) and left for India, where he
started studying Indian Classical music with the Bansuri, or Indian Flute. As he says himself: "I can't stay still. I have to experiment and learn new stuff. I have to be on the move or else everything stops. As with my music I have to explore new territories. "After a year of hard work and a lot of Delhi Belly he went back to Norway".

Tony was born in Oslo and brought up in Assbroken, a suburb in Oslo, and around '84 he started playing at the local youth club. He then started playing at weddings and friends' parties, and soon progressed on to playing in discos and at rave parties. After experimenting in different styles of music he got hooked on breaks, which resulted in him becoming a record collector. After realizing that the breaks records were mainly pieces of samples put together from different classic records he started making music. "At that time I thought it was just a case of putting together different samples, and the music would be there, but after years of producing and learning I found that there is so much more to it than that. To do what I wanted I soon understood that I needed somebody with knowledge of music theory. That's when I met Richard".

Richard elaborates: "After doing a local gig with his new project Poetry, Tony was DJ-ing at the same club and approached me asking if I would be interested in doing some stuff on his project Huba Buba". It was after this that they began work together and soon experienced the magic of having musical knowledge and extensive DJing backgrounds, which resulted in several 12" releases on labels such as Boombox, Kickin, Black Jesus and Quiet Riot. It also led to them starting their own label, Domination, on which they released Poetry's EP.

After some years of full studio work, playing regularly at local clubs and touring Europe and the States as sidemen with different Norwegian bands and projects, they started out by releasing material on Certificate 18 and Teebee's label, Subtitles.

They are now situated in Norway. Their sets, usually when not straight DJ-ing, consist of turntablism, computers, and live acts on different settings working with drums, saxophone, human beat box, synths, vocalists and tabla.

"Our music philosophy is not to have any boundaries. We try to make what feels good at any given moment. Our aim is to create a freedom to do what we want. Our influences come from all genres; r&b, pop, rock, jazz, indian, breakbeat, techno, house, and we believe people shouldn't forget where they are coming from. A lot of people out there diss other styles, even before they really have checked it out, just to follow some kind of trend. We feel that there is a lot of good (and bad) music in all genres - so why miss out on the good stuff just for the sake of fitting in with the scene? We try to
blend all kind of styles in our music, be it saxophone, flute, vocals, tabla, guitar and so on. But in the end whatever we do, the main thing is to achieve a kind of sensation, a feel that this is it - the moment".

And now Future Prophecies are here to challenge the way drum'n'bass is heard - something so many are afraid to do.