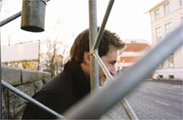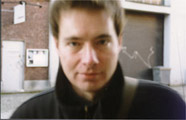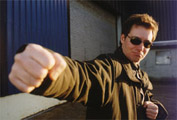 Motion Control is Oddgeir Hvidsten from Bergen, Norway. He started his recording career in the ambient trio Neural Network, who released two albums on Origo Sound. Oddgeir Hvidsten and Lars Kristian Sande, 2/3 of Neural Network, started making more rhythm oriented material under the Motion Control name, and got a deal with the UK Universal Code label.

Two EP's were released on Universal Code, and the tracks from these two EP's plus a third unreleased EP were collected on their first Beatservice album, the Digits CD (

BS017).

The Digits style can be described as warm, sexy, technological melodies over sensual and exotic strings and erotic, funky beats, with inspiration from Detroit techno and European minimalism.

Now, Motion Control is trimmed down to Oddgeir Hvidsten as key member, but with participation from both of the Neural Network colleagues Jostein Dahl Gjelsvik and Lars Kristian Sande.

The style is radically changed for the new Motion Control album. The Detroit techno inspiration is blended with french house style and 70's disco, with inspiration from Derrick May, Carl Craig, Ludovic Navarre (St. Germain), George Clinton, Bob Sinclair, Grandmaster Flash, Kruder & Dorfmeister, Isac Hayes, Cassius, Les Rhythmes Digitales and Dimitri From Paris.

Check out their own web pages with more info and sound-bites

here.
---
Discography
Digits 12" (Universal Code 1996)
Handcuffed 12" (Universal Code 1996)
BSCD017 Digits CD (Beatservice Records 1998)
BSS025-6 Strawberries 7" (Beatservice Records 1999)
BS027 Real Thing 12" (Beatservice Records 2000)
BSCD029 Groove Tool CD (Beatservice Records 2000)
BS033 Groove Tool EP 12" (Beatservice Records 2000)
compilation contributions
Arctic Circles - a collection of sub zero soundscapes (BSCD015) CD (Beatservice Records 1997)
Motion Control: Organic Storm
Steve Bugs presents Da Minimal Funk CD (Raw Elements 1997)
Motion Control: Digit 02
Biosystems - the biosphere remixes (BSCD022) CD (Beatservice Records 1999)
Motion Control: Digits 3 (biosphere's astragalus remix)
Arctic Circles 2 (BSCD025) CD (Beatservice Records 1999)
Motion Control: Strawberries
Prima Norsk - a collection of groovy norwegian house music (BSCD034) CD (Beatservice Records 2000)
Motion Control: Real Thing
Silent Night Train (BSFREE001) CD (Beatservice Records 2001)
Motion Control: Digits 3 (biosphere astragalus mix)
Colors Nordic CD (Colors Sounds/Irma Group 2002)
Motion Control: Cleavage
Beatservice Jukebox - best of beatservice records (BS080DCD) DCD (Beatservice Records 2004)
Motion Control: Groove Tool
/ Motion Control: Nightcap (sternklang remix)
Beatservice Video Jukebox - best of beatservice music videos 1994-2004 (BS080DVD) DVD (Beatservice Records 2006)
Motion Control: Groove Tool / Motion Control: Digits 3 (biosphere's astragalus remix)
Arctic Circles 2 - The Seven Inch Remix Collection (BS025X) Digital Album (Beatservice Records 2007)
Motion Control: Digits 2 (mind over midi remix)
Biosystems - The Biosphere EP (BS022EP) Digital EP (Beatservice Records 2016)
Motion Control: Digits 3 (Biosphere's Astragalus Remix)
SoundSAM Bootleg Remixes (BS254) Digital EP (Beatservice Records 2022)
Motion Control: Digits 3 (SoundSAM Paradise & Lucid Computer Remix)
Remixes

Aedena Cycle
: The Glipp
on Cargo Cult 7" (BSS025-5) (Beatservice 1999)
Audun Kleive:
Salute
on the compilation Jazzland Remixed (Jazzland/Universal 2000)
Folk & Røvere
: Nuzz
on the CD-single Dust (So Happy Inc 2000)