Ralph Myerz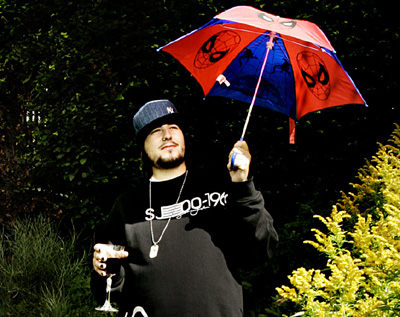 Ralph Myerz is having a little break from The Jack Herren Band, and has a solo album planned. Beatservice Records have signed a world wide deal with Mr Myerz. The album is about 80% done, and the title is already set: Ralphorama. It isn't due until jan/feb 2008, but we can look forward to 3 singles in 2007, all three showcasing the different sides of Ralphorama.
The first single is called My Darling, and is a pop-electronica track with hip-hop beats and sugar sweet vocals from Christine Sandtorv (of Ephemera, also known from other RM&TJHB tracks). This single will be released early summer, and will have remixes from Bent, Rune Lindbæk, Kahuun, Doc L Jnr and more.
The next single is All Night Long, a funky fresh retro-disco-thing, where we can hear Mr Myerz himself doing a nice white-boy-disco-rap, along with female singer Caro. Indeep for the 00'ies!!! This will be released late summer/early autumn.
The third single will be released late autumn/early winter. This is a hip-hop track with contributions from US rappers Devin The Dude (Jay Z, Dr. Dre, Snoop, Tupac etc), along with Kurupt from Dogg Pound, known from a.o. Snoop Dogg's Doggystyle album. Plus Onkl P representing Norway.
The album will also have a few more surprises when it comes to collaborators/guest vocals/rappers. Style wise, the album will also touch into instrumental hip-hop ala Nightmares on Wax, a touch of Berlin-minimalism (!) and some house stuff.
You can listen to some tasters on MySpace: http://www.myspace.com/theshakes4ever
Discography
compilation contributions
Reuge Remixed CD (Muve Recordings 2005)
Ralph Myerz: Melodien Von Händel (ralph myerz dizzy town remix)
Music For Cocktails - Metropolitan DCD (United Recordings 2007)
Ralph Myerz: My Darling
Be Cool CD (Rambling Records 2008)
Ralph Myerz: My Darling
Bolero Fashion Sound Volume One - Music We Love! CD (Universal 2008)
Ralph Myerz: My Darling
Buddha-Bar X DCD (George V Records 2008)
Ralph Myerz: My Darling
Serve Chilled DCD (Hed Kandi 2008)
Ralph Myerz: My Darling
Serve Chilled DCD (Hed Kandi USA 2008)
Ralph Myerz: My Darling
Tea House 2 DCD (High Note 2008)
Ralph Myerz: My Darling
The Chillout Lounge More... Downtempo Grooves For Late Night DCD (I Label 2008)
Ralph Myerz: My Darling
The Mix 2009 3CD (Hed Kandi 2009)
Ralph Myerz: Stormy Weathers
ArchiPOP#1 (BS160) Digital Album (Beatservice Records 2015)
Ralph Myerz: Stormy Weathers
Prima Norsk 4 (BS165) Digital Album (Beatservice Records 2016)
Ralph Myerz: Disco 4 Carina (featuring Therese Lunde)
Prima Norsk 4 (BS165CD) CD (Beatservice Records 2016)
Ralph Myerz: Disco 4 Carina (featuring Therese Lunde)
ArchiPOP#2 (BS200) Digital Album (Beatservice Records 2018)
Ralph Myerz: My Darling (featuring Christine Sandtorv)
as Ralph Myerz & The Jack Herren Band
A Special Morning 12" (Disconnected 1998)
Nikita 7" (Tellé 2000)
Nitkita 12" (Tellé 2001)
A Special EP CD-single / 12" (Emperor Norton 2002)
A Special Album CD (Rykodisc 2003)
A Special Album CD/DLP (Emperor Norton 2003)
A Special Bonus CD CD-single (Emperor Norton 2003)
Casino 12" (Emperor Norton 2003)
Casino CD-single (Emperor Norton 2003)
Casino (white label) 12" (Emperor Norton 2003)
Think Twice 12" (Emperor Norton 2003)
Think Twice CD-single (Emperor Norton 2003)
Think Twice 12" (Emperor Norton 2003)
Think Twice promo CD-single (Emperor Norton 2003)
Your New Best Friends CD (Rukodisc 2004)
Lipstick CD-single (Emperor Norton 2005)
Kill The DJ CD-single (Virgin 2006)