</P>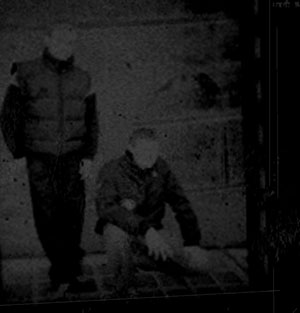 Teebee & K

Teebee & K aka Torgeir Byrknes and Kjetil Dale Sagstad is a part of the new generation of drum'n'bass artist from Norway, from the fresh and exciting music scene in Bergen, on the west coast of Norway. Both as a duo, as solo projects and parts of different projects, they have released numerous 12"-es on labels like Rugged Vinyl, Audio Couture/Moving Shadow, Certificate 18, Juice, R&S and A-Level Recordings. Their releases have been well received in magazines like NME, Muziq Mixmag and Update, and are playlisted by top UK drum'n'bass DJ's like Roni Size, Grooverider, Fabio and Krust, and techno DJ's like Laurent Garnier and Andrew Weatherall. Their music spans from from dark kung fu d'n'b to the more soft and jazzy trip-hop-inspired stuff, plus a few detours into electroland.

Teebee is also on of the leading drum'n'bass DJ's in Norway, and he have toured alongside some of the top drum'n'bass DJ's in England.

Their debut album "

Black Science" was release 22. march 1999 on Beatservice Records.

Latest: Teebee & K have just started their own label Subtitles.

Check out their

own pages.

---
Discography

DJ TeeBee: Roll 'em Up
12" (A-Level rec. 1996)
DJ TeeBee: Your Soul
12" (A-Level rec 1996)
Bluenote: Pantune
12" (A-Level rec. 1996)
Bluenote: When It Rains
12" (A-Level rec. 1996)
Various: Quicksilver
2x12" (Rugged Vinyl 1997)
Various: Quicksilver Remixes
12" (Rugged Vinyl 1997)
The Assassin: Poison Hand
12" (Rugged Vinyl 1997)
The Assassin: Mailfunction
white label 12" (Rugged Vinyl 1997)
Jazzassins: Headz
12" (R&S Records 1997)
DJ TeeBee & K: Droids
12" (Audio Couture 1998)
Dj TeeBee: Assassin
12" (Audio Couture 1998)
K: A Bad Dream
12" (Audio Couture 1998)
DJ TeeBee: Coming Of Shadows
12" (Audio Cotoure 1998)
Black Science Labs: Exogenesis
12" (Certificate 18 1999)
BS021 Teebee & K: Black Science CD (Beatservice 1999)
DJ TeeBee: Distorted Information EP
2x12" (Juice 1999)
Black Science Labs: Space Age
12" (Certificate 18 1999)
DJ TeeBee: Rebel Assalut
12" (Rugged Vinyl 1999)
DJ TeeBee: Endgame
12" (Moving Shadow 1999)
K: Destination Unknown
12" (Moving Shadow 1999)
DJ Teebee: Oblivion
12" (Moving Shadow 1999)
TeeBee & K: Arctix
12" (Moving Shadow 1999)
Black Science Labs: Spaceage
12" (Certificate 18 1999)
K: Transmission
12" (Moving Shadow june1999)
Polar: 37 Degrees And Falling
mini-CD/DLP (Certificate 18 1999)
BSS025-4 Teebee & K: Jazztronauts 7" (Beatservice 1999)
Polar: Biosfear
(Certificate 1999)
Dj Teebee: Intelligence Unknown
12" (Juice 1999)
Black Science Labs: The Gateway
12" (Certificate 18 2000)
Polar: Mind Of A Killer
12" (Certificate 18 2000)
Polar: Mind Of A Killer (remixes)
12" (Certificate 18 2000)
DJ Teebee presents: Black Science Labs
CD/DLP (Certificate 18 2000)
K: Total Recall
12" (Thermal Recordings 2000)
Teebee: The Execution
12" (Thermal Recordings 2000)
K: Thought Control
12" (Subtitles 2000)
Compilation contributions:

TeeBee & K
: Droids / DJ TeeBee: Assassin
Tracks on the compilation 98.1 CD (Moving Shadow 1998)
TeeBee & K
: Droids
Track on the compilation Fully Automatic CD (Moonshine 1998)
Jazzassins
: Compas
Track on the compilation Heart of Jazz CD (Play It Again Sam 1998)
DJ TeeBee: Turnteebeelised

Track on the compilation Mixmag Live: The Takover Bid by Aphrodite & Mickey Finn CD (Mixmag 1998)
DJ TeeBee: Rebel Assault
Track on the compilation Dreamscape - Mixed by Randall (Virgin 1999)
Polar: Mind Of A Killer

Teebee Presents Black Science Labs: Light Between Two Moons
Tracks on the compilation Hidden Rooms 2 CD (Certificate 18 1999)
Remixes

Sternklang
: Neolounge
on Afterglow 7" (BSS025-3) (Beatservice 1999)
Poetry: One (polar remix) / One: (teebee remix)
on One 12" (Domination Records 1999)
Aquasky: Supernatural (k remix)
on Supernatural 12" (Moving Shadow 2000)
Klute: Faceless (teebee remix)
on Supernatural 12" (Certificate 18 2000)
Nils Petter Molvær: ? (teebee remix)
on forthcoming 12"/remix-album (Universal Music 2000)


Forthcoming

Polar: 5am
12" (Metalheadz summer 2000 tbc)
Teebee: Human Reptile
12" (Metalheadz summer 2000 tbc)
Teebee and K will contribuite with one track each on the forthcoming Platinum Breaks 3 (Metalheads summer 2000 tbc)
Teebee: Gathering Of Developers
/ Daywalker 12" (Subtitles may / june 2000 tbc)
K: Disconnected
/ The Evil Twin 12" (Subtitles july/august 2000 tbc)
Teebee: The Execution
12" (Thermal mai 2000 tbc)
Polar - Headgames
/ Secret World / Mass Mysterior (teebee remix) (Certificate 18 june 2000 tbc)


---