The Electones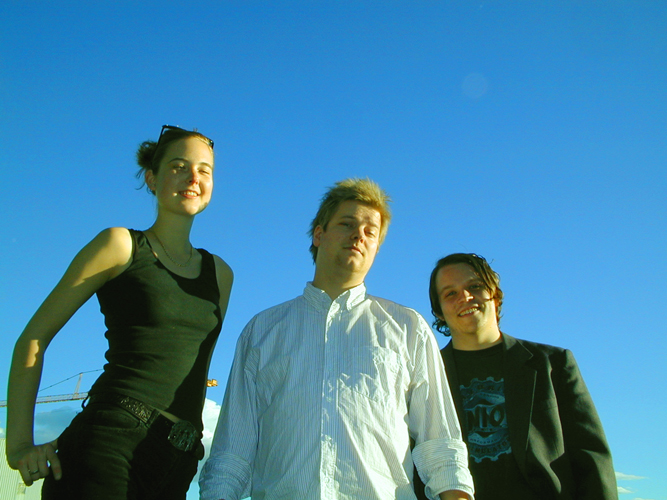 The core of The Electones is Jens Petter Nilsen and Hallvard Wennersberg Hagen. You may know them as Xploding Plastix, but this is something different. Following the release of two 12"-ers on the UK label Inertia in 2002 and 2003, they recieved their fair share of nice feedback:
Steps confidently not to mention beautifully between the realms of jazz, electronica, classical and acoustic folk.Class (DJ Magazine)
Since then, they have been slowly and steadily working on the Electones debut album, in between further two Xploding Plastix albums, one album as Piston Ltd, and lots of other commisioned works. Originally a collaboration between Jens Petter, Hallvard and singer Rita Augestad Knudsen, the album has evolved into a collaboratoral effort, adding the voices of Kaja Haven, Endre Bjotveit and Erland Dahlen, the latter also on drums, percussion & saw, plus Bjørn Charlie Dreyer and Lars Fredsik Frøisli on various instruments.
The result is the stunning debut album "If You'll Be Null, I'll Be Void", who can be described as a mixture of 60-ish folk rock, early electronica and a dose of Lanois.
---
Discography
Summer Cloud 12" (Inertia 2002)
Electricity 12" (Inertia 2003)
BS113CD The Electones: If You'll Be Null, I'll Be Void CD (Beatservice Records 2009)
as Piston Ltd
as Xploding Plastix
BSS031 Treat Me Mean, I Need The Reputation 7" (Beatservice Records 2000)
BSCD038 Amateur Girlfriends Go Proskirt Agents CD (Beatservice Records 2001)
BSLP038 Amateur Girlfriends Go Proskirt Agents LP (Beatservice Records 2001)
BSCDEP041 Behind The Eightball CD-EP (Beatservice Records 2001)
Doubletalk EP 12" (Beatservice US/Groove Dis 2001)
Sunset Spirals (featuring Sarah Cracknell) CD-single (Sony 2003)
The Benevolent Volume Lurking EP 12"/CD-single (Columbia/Sony 2003)
The Donca Matic Singalongs CD/LP (Columbia 2003)
The Duck & Cover EP 10" (Palm Beats 2003)
Amateur Girlfriends CD (Palm Beats 2004)
The Rebop by Proxy EP 10" (Palm Beats 2004)
BS111CD Treated Timber Resists Rot CD (Beatservice Records 2008)
BS118CD The Donca Matic Singalongs Revisited CD (Beatservice Records 2009)
BS119 Devious Dan EP Digital EP (Beatservice Records 2010)
BS272 This Is Accurate Digital album (Beatservice Records 2023)
BS272-1 Frugality Inertia Digital single (Beatservice Records 2023)
BS272-2 Average Agreeableness Digital single (Beatservice Records 2023)
BS272-3 Optimal Meat To Bread Ratio Digital single (Beatservice Records 2023)
BS272-4 More Espresso, Less Depresso Digital single (Beatservice Records 2023)
BS277-1 We Are All Plausable Characters Digital single (12. jan 2024)
compilation contributions
Dub Plates From The Lamp CD / LP (Pork 2000)
Xploding Plastix: Lets Pretend Desperate
O' What A Day CD (UCM 2000)
Xploding Plastix: Electric Things
scandinavian Zoom CD (YBO 2000)
Xploding Plastix: Treat Me Mean I Need The Reputation
Vent 004 - A Drum'n'Bass Document CD (Tar Media Productions 2000)
Xploding Plastix: The Beat Of The Drum / Xploding Plastix: Funnybonez and Lazylegz
Arctic Circles 3 (BSCD043) CD (Beatservice Records 2001)
Xploding Plastix: 22-Carat Tear-Jerker
Silent Night Train (BSFREE001) CD (Beatservice Records 2001)
Xploding Plastix: 22-Carat Tear Jerker
/ Xploding Plastix: Relieved Beyond Repair
Taster: Sounds From The Funky Underground Volume 2 DCD (Chocolate Fireguard 2001)
Xploding Plastix: Sports not Heavy Crime
Friendly Selection - lucid voices and lazy beats (BS052CD) CD (Beatservice Records 2002)
Xploding Plastix: 22-Carat Tear-Jerker
An Introduction To Nordic Lounge CD (Dealers Of Nordic Music 2002)
Xploding Plastix: 6 Hours Starlight
Cafe Electronica CD (Water Music Records 2002)
Xploding Plastix: Funnybonez & Lazylegs
Colors Nordic CD (Colors Sounds/Irma Group 2002)
Xploding Plastix: More Powah To Yah
Fjord Focus - A Norwegian Sampler CD (The Wire 2002)
Xploding Plastix: Sports, Not Heavi Crime
Plastic Surgery III CD / ltd DCD (Hospital Records 2002)
Xploding Plastix: Treat Me Mean, I Need The Reputation
Plastic Surgery III 12" (Hospital Records 2002)
Xploding Plastix: Treat Me Mean, I Need The Reputation
Port Azur CD (Port Azur 2002)
Xploding Plastix: Shakedown Shutoff (live in manchester)
Ultimate Chill Out DCD (Water Music Records 2002)
Xploding Plastix: 6 Hours Starlight
Warp Factor 4 - 2002 A Spaced Oddity CD (Gentle Fire Music Ltd 2002)
Xploding Plastix: Comatose Luck
Wood: Choice Cuts CD (Tar Media Productions 2002)
Xploding Plastix: Doubletalk Gets Through To You
Autofil CD (Spider Management 2003)
Xploding Plastix: Sports, Not Heavy Crime
Miss Lounge Universe - Scandinavia CD (Rambling Records 2003)
Xploding Plastix: 6-Hours Starlight
Pure Chill Out 2 DCD (Water Music Records 2003)
Xploding Plastix: 22-Carat Tear-Jerker
Scandinavian Aspects Of Jazz CD (DNM 2003)
Xploding Plastix: Comatose Luck
Sivil ulyd 2 - Ingen Krig CD (Passive Fist Records 2003)
Xploding Plastix: Joy Comes In The Morning
Torch CD (Six Degrees Records 2003)
Xploding Plastix: 22-Carat Tear Jerker
Ultimate Lounge DCD (Water Music Records 2003)
Xploding Plastix: Happy Jizz Girls
A Trip In Lounge DCD (Water Music Records 2004)
Xploding Plastix: Behind The Eightball
Jazzflora CD (DNM 2004)
Xploding Plastix: Comatose Luck
Millennium Jazz 5 CD (Undercover Music 2004)
Xploding Plastix: Comatose Luck
Norway Now - Electronica promo CD (Music Export Norway 2004)
Xploding Plastix: The Famous Biting Guy
Beatservice Jukebox - best of beatservice records (BS080DCD) DCD (Beatservice Records 2004)
Xploding Plastix: Treat Me Mean, I Need The Reputation
Beatservice Video Jukebox - best of beatservice music videos 1994-2004 (BS080DVD) DVD (Beatservice Records 2006)
Xploding Plastix: Devious Dan
/ Xploding Plastix: Doubletalk Gets Thru To You / Xploding Plastix: Devious Dan / Xploding Plastix: Sports, Not Heavy Crime
Øyafestivalen Promo 2005 CD (Øyafestivalen/Platekompaniet 2005)
Xploding Plastix: The Short Drop And A Sudden Stop
Norway Electronica 2. edition CD (Music Export Norway 2006)
Xploding Plastix: The Short Drop and a Sudden Stop
Rune Lindbæk's N-Disko Mix (BS098CD) CD (Beatservice Records 2007)
Xploding Plastix featuring Sarah Cracknell: Sunset Spirals (rune lindbæk dub)
Musik For Film CD (Burning Bowl Records 2008)
Xploding Plastix: Treat Me Mean, I Need The Reputation (Dub Version)